Group Healing and Introduction to VortexHealing®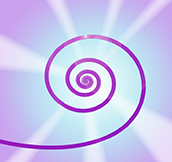 September 2016. Please check back.
7:30-8:45pm
at the New York Open Center
22 East 30th Str. (bet 5th & Madison Aves)
Opening to Grace:
Effortlessly flow with the river of Divine Guidance. Allow Grace transform your life and give it a new purpose.
In this group healing we focus on the obstacles within us that prevent us from being carried by Life. The ways we close our hearts in self-defense. How our fears cause us to resist and how our past hurts make us distrust. Answer the call of Freedom and Grace, join us for one evening, and experience the transformative power of VortexHealing®.
Cost: $15. A registration link will appear here shortly. Please check back.

_________________________________________________________________________________
Introduction to the Enneagram:
Teleconference call, accessible via internet or phone
Please check back for next upcoming date

If you are new to the Enneagram, curious and ready to discover how it can help you see yourself and other people in a new light, this event is perfect. You will leave with new insights into why we act, think and feel the way we do, why we oftentimes get in our own way and why relationships with our loved ones or at work can be so difficult. If you are already familiar with the Enneagram, come and deepen your understanding. There is always more to discover.
To register, send an e-mail to info@Space4Transformation.com and you will receive the call in information.
__________________________________________________________________________________
Enneagram Weekend Workshops:
Use the Enneagram to Improve the Quality of your Relationships - Weekend Introductory Workshop
October 1st and 2nd, 2016, New York City
Relationships can be one of the greatest sources of fulfillment or a cause of great stress. We seek harmonious connections with others but all too often we end up with arguments or a sense of dissatisfaction. The Enneagram helps us understand that we approach our relationships through the filter of our, often unconscious, values and expectations, that we unknowingly communicate in a particular style and make decisions or act out defensive patterns corresponding to our Enneagram Type. We even fight according to our Type.
In this Workshop we gain incredibly valuable insights into how relationships really work, engage in exercises that help us discover our own relationship style and that of our loved ones and leave with very practical tools that, when practiced, have the power to improve our relationships with everyone in our lives. Deeply understanding our own unconscious motivations and drives and those of our relationship partners sheds light onto relationship dynamics, pitfalls and rewards. It shows us the possibility of counciously participating in our relationships as opposed to merely acting out our habitual styles.


Meeting Times: Sat, Feb 27th: 10am-6pm and Sun, Feb 28th: 10am-5pm
Cost: Early Bird Special if registered by Sep 17th: $275. ($295 if registered after Sep 17th).
To register or for more information, e-mail info@Space4Transformation.com
The Enneagram for personal Transformation
Fall 2016
This is a 2-day introductory Workshop.
Learn to use the Enneagram as a map to understand self-hindering patterns in your personality and uncover the precious Essence qualities that lie underneath.
The great gift of the Enneagram is that it shows us the different habitual ways we lose contact with the present moment and with the peace, love and aliveness that are always here. This Workshop focuses on the 9 different archetypal patterns we all play out in our everyday lives, oftentimes unconsciously. Through guided explorations, focused inquiry and short exercises we dive deeper into the practical applications of the Enneagram for our personal transformation. The path back to freedom and wholeness for each EnneaType will be illuminated.